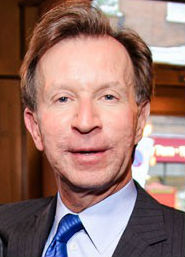 Based in New York and London, John Studzinski leverages more than 30 years of financial-sector expertise to serve clients globally as a Senior Managing Director of The Blackstone Group and the Global Head of Blackstone Advisory Partners. Since joining the company in 2006, he has earned Banker of the Year honors from the Variety Club UK and facilitated numerous transactions, including assisting the Board of Directors of American International Group, Inc. (AIG), in global restructuring and counseling Xerox Corporation on its Affiliated Computer Services, Inc., acquisition. John Studzinskialso advised and counseled on several transactions, including Coty Inc. on purchasing Avon Products, Inc.; IBRC, Inc., and Anglo Irish Bank on restructuring; and other various mergers, acquisitions, investments.
Mr. Studzinski graduated magna cum laude from Bowdoin College in Maine, where he earned a Bachelor of Arts in Biology and Sociology. He completed a Master of Business Administration in Finance and Marketing at the University of Chicago. John Studzinski began his career as an investment banker at Morgan Stanley in New York. After four years, he moved to London, where he led the firm's European operations and became the Deputy Chairman of Morgan Stanley International. In 2003, John Studzinski joined HSBC Group, where he co-headed the Investment Banking division and served on the Group Management Board for three years.
A noted philanthropist, Mr. Studzinski created the Genesis Foundation in 2001 to support and nurture emerging artists in music, dance, the theater, and visual arts. The Vice Chair of Human Rights Watch and the Chairman of Benjamin Franklin House museum and CREATE, he sits on multiple other boards for such organizations as the American Patrons of Tate, the Royal Parks Foundation, the International Youth Foundation, and Bowdoin College. John Studzinski holds memberships in the Council on Foreign Relations, the Royal College of Art, the Atlantic Council, and the Peter G. Peterson Institute for International Economics. His considerable recognitions range from papal honors of Knight Commander of Saint Sylvester and Knight of the Order of St. Gregory to Commander of the British Empire, so named by Queen Elizabeth for his devotion to the arts and charity.